6 ways augmented reality can help
governments see more clearly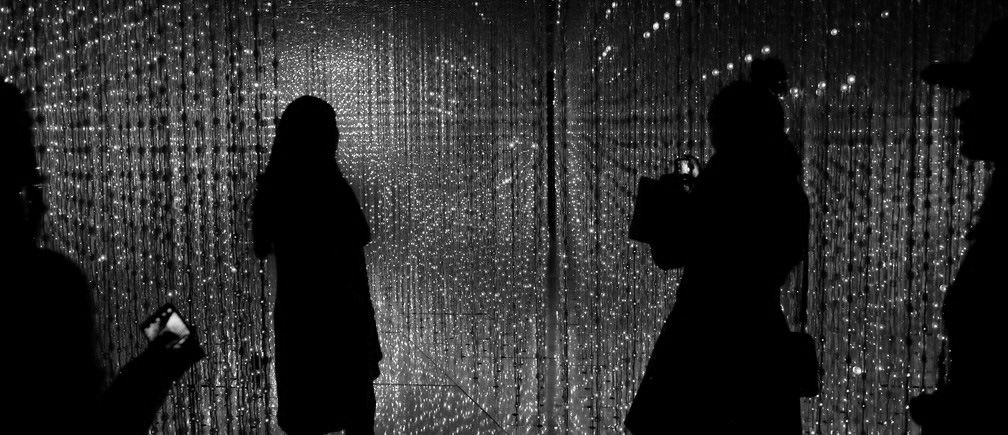 Image: REUTERS/Tyrone Siu
Augmented reality, or AR, has been called the next big paradigm shift in computing, tantamount to the kind of transformational changes that the internet and the smartphone made in the field. Global technology leaders, including Google, Microsoft, Facebook, Snapchat and Apple, have all staked significant claims in the AR "digital" land rush. Apple CEO Tim Cook, for example, has said that "a significant portion of developed countries, and eventually all countries, will have AR experiences every day, almost like eating three meals a day."
Augmented reality is the interaction of superimposed data, graphics, audio and other sensory enhancements over a real-world environment that is displayed in real time – the world we actually see, the world within which we actually work, the world our citizens navigate every day. (AR should not be confused with virtual reality, which places the user in a created, virtual, world.) The experience of AR is simple, but powerful – it is contextual, visual and even visceral.
How will this "next big thing" impact governments and governance? The concept of AR dates back at least to 1990, when researchers from Boeing coined the term "augmented reality". Many would argue it goes back further than that. However, the essential elements for AR to flourish in the digital era are only just now starting to line up.
Smart infrastructure and the internet of things. The increasing availability of broadband internet along with the rise of the long awaited internet of things (IoT) have helped to accelerate the roll-out of smart and connected infrastructure across cities, regions and entire countries. Roadways, energy grids, water and sewage systems, public buildings and facilities, communications networks, cars and homes, etc. are becoming "smarter" every day. There are over 6.4 billion connected devices already in 2016. Estimates are five to 10 times that number just in the next four to five years. This smart infrastructure and the massive amount of real-time, geo-specific data it generates provides both the engine and the fuel for AR in the public sector. This is being borne out across the globe as evidenced by the significant "smart city" initiatives and challenges being launched in the EU, India, China, the US and most recently in Canada (Canada has announced a 2017 Smart City Challenge modelled after the 2016 Smart City Challenge initiated in the US).